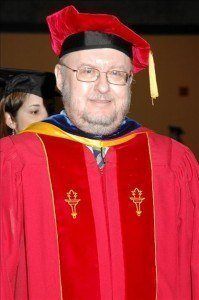 Joel J. Heim, Ph.D., is a life-long educator having served as a public high school teacher, religious educator and a college professor in the fields of religion, philosophy and education at universities in California and Wisconsin.
Professor Heim is excited to bringing his lifetime of teaching experience to the wider public in an online format.
[raw]
[/raw]
EDUCATION:
Ph.D. from the Religion and Social Ethics Program of the School of Religion at the University of Southern California, 2000.
Master of Divinity from Union Theological Seminary (New York City), 1990.
Bachelor of Science in Education from the University of Nebraska-Lincoln, 1982.
[raw]
[/raw]
RELEVANT PROFESSIONAL EXPERIENCE:
Assistant Professor of Philosophy, Marian University, Fond du Lac, Wisconsin (2012-2013).
Assistant Professor of Interdisciplinary Studies in Curriculum and Instruction, National Louis University, Milwaukee, Wisconsin (2005-2012).
Assistant Professor of Religion and Philosophy, Carroll University, Waukesha, Wisconsin (1997-2004).
Lecturer, Religion and Philosophy Department of Azusa Pacific University, Azusa, California (1996-1997).
Associate Pastor, Wilshire Christian Church of Los Angeles, CA (1993-1996).
Teaching Assistant in World Religion, The School of Religion of the University of Southern California (1991-1994).
Assistant Director of Child and Youth Education, The Riverside Church, New York City (Sept. 1988-1991).
High School Teacher (Government, Sociology and Debate) at Westside High School in Omaha, Nebraska (1982-1987).